The Score is the Sunshine Tour's new Player Blog.
Alex Haindl recently claimed his fourth Sunshine Tour title when he won the SunBet Challenge hosted by Sun City on the demanding Gary Player Country Club course.
I was six years old when I made the decision that golf is all I want to do with my life. What do you really know when you're six? But my dad had started playing golf when I was four years old, and I started playing with him. Golf has really been the only thing I was ever going to do. I'd love to be an F1 driver, but I don't think that will work out for me.
I didn't play much amateur golf. My parents got divorced and I moved with my dad to Bloemfontein. We never really had much money. My dad worked really hard, and to play the top amateur events was expensive. I was 17 years old when I went to the Sunshine Tour Qualifying School for the first time. Basically, my dad and I decided that whether it was playing amateur events or pro events it was going to cost money, so you might as well be making a bit of money doing it. I missed my card the first time, so that year I did a bit of teaching and I worked in bars and as a waiter just to fund life basically, and then have an opportunity to play. I then got my tour card the next year.
Tour life is very expensive when you're just starting out. Although these days I see a lot of youngsters who seem to find sponsors very easily, and who have the backing. You see them earning R50 000 from 25 tournaments, but next year they're back. If you think what a season can cost in expenses, then I don't know how they're doing it.
I turned pro in 2000. In 2006, my dad took out a bank loan for me so I could play a fuller season. So I played more and played a bit better, and I won my first Sunshine Tour event in the Suncoast Classic at Durban Country Club. That changed things because then I was exempt and could play more. From there on it got a bit easier.
My dad did everything he could for me and my career, and still does. He introduced me to the game and helped me all the way. It's vital having somebody like that. In the last 20 years I can't tell you how many times I've reached the point where I've said, 'That's it. I've had enough of this'. To have somebody like my dad, and my wife, who keep pushing you on is so important. Those are the people that keep you in this game. Shaun Pollock (former South African cricket captain) is also a great friend and mentor for me. We chat quite a lot and he's really helped me with trying to keep my mind in the right place, especially when I've been through some tough times.
The issues with my back have been a bit of a disaster. It started in 2010 when I was playing a bit in Europe. At first my back would give up on me every two months. Then it became every six weeks, and then every four weeks. I had weeks where I would travel from one tournament to the next and be in bed until the first round because of the pain. I couldn't play practice rounds, which is not ideal. In 2015 I just couldn't go on. I couldn't walk because of the nerve pain. So I had surgery. It went allright at first. But the problem is you're out of the game for seven or eight months. Then when you come back, the big thing is that mentally you don't trust you can move again because your brain is fearful of the pain. So that takes a while to overcome. It took me a year before I could start playing half decent again. In 2018 I had a good year and thought here's a chance at bigger things again. And then at the end of the year my back gave in again. I had to have surgery again, and I've been on the comeback since. My chiropractor Sammy Pearson has been an incredible help. And my trainer Herman Liebenberg of SportsFit Gym works with me about four to five times a week on strengthening exercises. I've also started working with Grant Veenstra as my coach. And Natasha Fichardt helps me as my sports psychologist. It's all part of that thing that drives you to constantly want to improve. I like trying to improve all the time. It's always been that for me. Sure, I enjoy my downtime of watching F1 and UFC, listening to music and spending time with my family. But I can't sit around and do nothing for too long.
This most recent win means a lot because it's basically confirmation that I can play again. After all of the issues I've had, it's kind of confirmation that things are back to where they should be. Winning is so hard because it's either going to be your week or not. I've played with so many guys who've won and it's just a matter of it being their week. I've seen guys get the weirdest bounces and it's unbelievable the things that happen to guys who win. I really believe that 99% of the time it just comes down to whether it's your week or not. You have to do so many things right to win, and you can let it slip so easily. With my recent win, I felt like I handled it so well and was able to change my approach to the last three holes and par my way in instead of pushing too hard. It's hard to stay disciplined enough to change your strategy when you need to.
I have a wife and two girls at home. The older they get the harder it becomes to leave home because they understand you're going to be away for four to six weeks. Sometimes it can feel like you're leading two lives, because when you're at a tournament you're just in that zone and doing your own thing.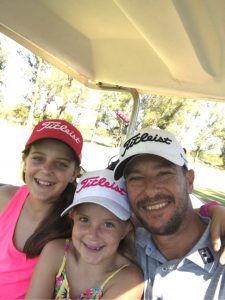 I've always been open to people asking me for advice and I do enjoy it. I enjoy coaching and working with better players and youngsters. My focus is more on teaching people how to play than the technical aspects of game. You can teach somebody the perfect way to swing a club, but when you get on Tour and in the heat of competition, there are so many factors to consider such as learning to play off different grasses, or in different temperatures and at different altitudes. On Tour you really need to understand your own tendencies, especially under pressure. That's what we mean when we talk about controlling your misses. You need to know what your tendencies are and if it goes wrong on a shot, where will it go wrong and how can you control that as much as possible.
Winning four times on the Sunshine Tour is great. But I think a moment that stands out most for me in my career is the putt I made to get my European Tour card in 2011. I had to make a par on the last to get it, and I holed a huge putt. That next season playing in Europe is the most I've ever enjoyed a season. It was tough and I had back pain, but that was the season I enjoyed most. It was nice just being out there and playing for better money and on great courses. It was a hell of an experience playing Royal Portrush and so on. That's what motivates me to keep improving. To get back there, and to climb the world rankings again.